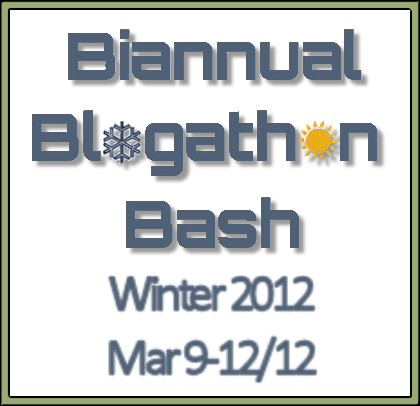 What are you doing this weekend? Along with my usual cooking and cleaning and family fun, I'll be participating in the
Biannual Blogathon Bash
. Yeppers. 72 hours of blogging fun.
Well, ok, not really 72 hours. But I will try to get the recommended 24 hours of blogging work done over the next three days. There are posts I need to write up (both for reviews and for ideas just bursting to get out of my head), contacts I need to make, PR emails to answer, stats to update, etc., etc. This will be a good opportunity to focus and push myself to stay on target and cross some items off my bloggy to-do list.
My personal goals include:
1. Complete two product reviews and write up (involves a shopping trip)
2. Finish one sponsored post
3. Finish two draft posts sitting in the bloggy background
4. Organise my blogging calendar to schedule in my current round of promised posts, reviews, memes, etc. (and make sure I'm not missing anything)
5. Respond to and organise all of my emails!! (That's going to be the hardest)
Next week I am actually going away for two nights with some girlfriends, to a B&B in Guelph. They will be scrapbooking. I will be working on my blog. Specifically, I'm going to be working on my media kit and sponsorship package. Plus, I'll be tidying up loose ends and writing some more reviews that are due.
And of course I'll be hiding from my family and getting some sleep and time in the hot tub as well.
SHHHHH!!! Don't tell anyone ;)
Are you a blogger? Interested in signing up for this Blogathon and potentially winning some prizes? There are blogging mini-challenges in which to partake as well. You can head on over to the
BBB
website for more info and to sign up. And, if you are participating, please leave a comment below to let me know!
Cheers!