This post brought to you by
Aviva Community Fund
. All opinions are 100% mine.
Back in January I told you about the
Aviva Community Fund Finalists for 2012
. I am happy to say that Aviva Insurance is continuing this charitable program for 2013, now in its 5th year. The campaign runs from August 15th, 2013, through to January 2014, with multiple phases throughout the competition. Currently, they are gearing up to start accepting new project proposals, beginning September 23. The competition will accept project ideas up until November 25, for a share of the $1,000,000 fund.
To date, the
Aviva Community Fund
has distributed over $3.5 million to initiatives devoted to creating positive change in communities across Canada. Could your community use some of this assistance? Maybe the neighbourhood playground is in need of an upgrade, or a local program for seniors or at-risk youth needs funds for materials, training, or physical space? Now is the time to plan your change project and get ready to submit it beginning Sept. 23. From Sept. 30 - Nov. 25, the public will have the opportunity to vote on their favourite projects to decide who makes it to the semi-finals (Dec. 2-15). After Dec. 15, public voting is ended and the top 30 ideas will make it to the final judging stage. Every finalist will receive at least $5000, but the best will receive full funding for their projects.
Did you catch that publc votes get you to the finals? It's really important to submit your ideas early and work hard to promote your entry. Spread the word to family and friends, share on your social channels, talk it up in local circles - whatever you can do to bring attention to your idea and have people visit the Aviva Community Fund website to check it out and vote. As well, if you get an insurance broker to support your idea, that increases your chances of winning.
To be eligible for the competition, ideas must be:
•

Action oriented
•

Local to Canada
•

Beneficial to many
•

Priced under $150,000
•

Executed by December 2014
Here's a winner from a previous year - Holyrood School in Newfoundland and Labrador, had a bleak and unused courtyard that they wished to turn into an outdoor classroom.
Before & After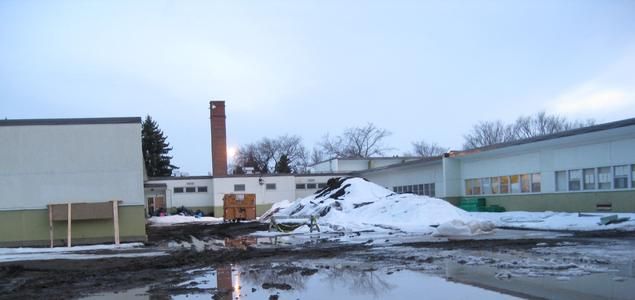 Oh, and by the way, I am delighted that the Happy Valley Goose Bay SPCA I was rooting for did receive a $5000 grant in the 2012 competition,although they didn't take home the grand prize.