Every year my husband asks me what I would like for Mother's Day, and every year I say, "Nothing." I think a lot of us moms do the same thing. When pushed I will suggest something gardening-related or something to do with pampering me, like a spa day or pretty, smelly bath stuff. Last year I asked for a bottle of wine and a hanging basket, which I got. Yay! If you're looking for new ideas for a special mom in your life, or some hints to pass along to those buying for you, here are a few items that have caught my eye. I think any of these would make for an awesome Mother's Day surprise!
She Loves to Read
My mom and I are both in love with our e-Readers. They make it so easy to read on the go, and to have an entire library in the palm of your hand.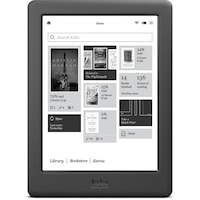 Kobo has just come out with their latest, the
Kobo Glo HD
. Super light at 0.4lbs, with a 6 inch screen, this device is perfect for popping in your purse to read on your commute to work or while you relax at the beach. It's lighter than a hardcover, and you can read a full book on a single charge. Available May 1 from Chapters/Indigo for $129.99.
She Loves to Be Pampered
Try some girlie products to make her feel beautiful. (These options are local to Southern Ontario!)
Cocoon Apothecary is an artisanal skincare company, based in Kitchener, ON. Their products are biodegradable, vegan, gluten-free, and made with organic ingredients. Try this
Skin Care Starter Kit
, available through Well.ca. Three 20ml, travel size bottles of cleanser, toner, and facial cream, packed with delicious sounding natural ingredients like rose hips, lavender, sweet almond oil, and geranium. $30 regular price, now on for $27, with free shipping.
Province Apothecary is another local skincare company, based in Toronto, with products originally conceived in the founder's home kitchen. Organic and wildcrafted ingredients blended by hand in small batches. Try the
Basic Daily Essentials Kit
as a starter for mom. Suitable for all skin types, including those more mature types like my own. Available through Well.ca at $44, free shipping.
She Loves to Try New Things
For this mom, or the mom who has everything, check out
LifeExperiences.ca
. Rather than give her a physical gift, you can choose from a variety of experiences - like driving a luxury sportscar, taking a helicopter ride, an in-home cooking class, spa day, dinner out, and more - and she'll have a gift she'll always remember. If you can't choose, you can purchase a gift card for the site and she'll be able to pick her perfect experience for herself. And if your mom lives in a different province, like mine does, you can have them email the certificate directly to her. There's even a Merry Maids option, so you can give mom a nice clean home in which she can just relax!
She Loves the Pretty
Diamonds are a girl's best friend, right? Well, most of us love to receive jewelry as gifts, especially when there's an added personal touch. Check out
Citrus Silver
for beautiful sterling silver pieces, many of which can be personalized with children's names or thoughtful sayings. Based right here in Toronto, Citrus offers pendants and charms stamped with words, names, dates that are important to you. For Mother's Day, I like the Sunny Pendant on a leather cuff. This is so my style!
For a limited time, you'll receive a sterling silver removable clasp with this purchase, so the pendant can be switched out to a chain. The charm has room for 30 characters.
Actually, you can get lost on the site, looking at all the beautiful charms and pendants and chains. I really like this pendant, the "Punchy," and the "Zing" too.
Order until May 3 for regular ground delivery within Canada in time for Mother's Day, or until May 6 for FedEx overnight delivery.
Disclosure: Inspiration for the gift ideas in this post came from attending the #IPRGiftLounge event, organised by Impressions Public Relations. This post contains affiliate links.